Installing Android apps on Windows 11 is finally possible. We'll show you how to install them and what it takes.
Many users have been waiting for the official release of the Android apps for Windows 11 for a long time. Now the time has come. In Germany you can now also install and use the Android apps in Windows 11. The latest WSA update has now made this possible. So you must first update your Windows to the latest version before you can get started. Unfortunately, that's not all, as further steps are needed, which we'll explain to you here in the article. You still need the WSA (Windows Subsystem for Android). This is not (yet) included with the installation of Windows. This may change in the upcoming Windows 11 ISO files available.
Preliminary information about Android apps in Windows 11
This section provides some important usage, terms, and installation information for using Android apps in Windows 11.
Apps cannot be easily installed directly through an SDK.
You need the WSA (Windows Subsystem for Android) which you need to install first.
You do not get the apps from the Google Play Store, but from the Amazon Appstore.
You also need to install the Amazon Appstore.
You need an Amazon account to use the Amazon Appstore app.
At the launch in Germany, only a small selection of apps is currently available.
Install Android apps
The first step is to check for new updates or you can check if you have already installed the required version number from the Amazon Appstore.
You need version: 2207.40000.8.0 or higher.
Once the update is complete, you can install and use the apps.
Install the Windows Subsystem for Android (WSA).
To install Android apps in Windows 11, you need the WSA. You (still) have to install this manually.
Download this WSA from Microsoft.
On the website click on the link "Go to the Store app". This will open the Microsoft Store.
Click now to install and WSA including Amazon Appstore App will be installed on your PC.
You can also search for and install WSA yourself in the Microsoft Store.
Now you can launch the Amazon Appstore.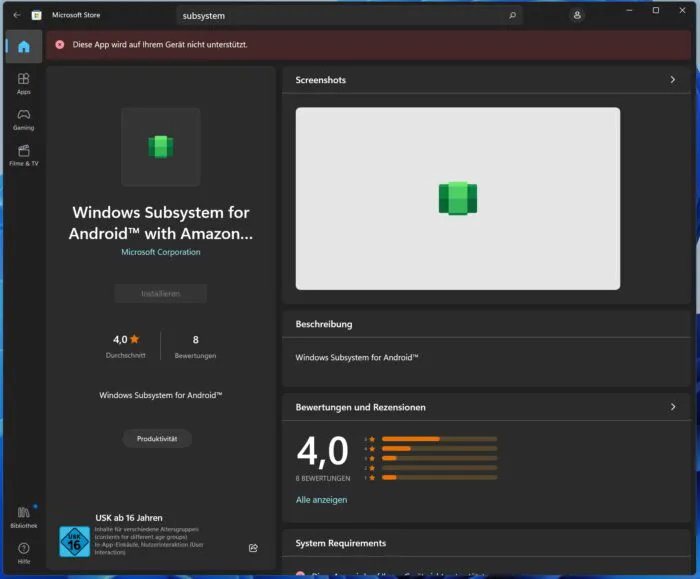 If you have any questions or suggestions on this topic, please use the comment function on this page or in ours IT Tweak Youtube Chanel. We look forward to your opinion, additions or help to make the article even better.
Useful links
Find more tips and tricks for Windows 11 here.
source:Microsoft
featured image source: © Microsoft